ILRS Technology and Engineering Activities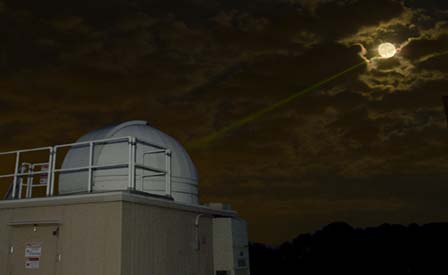 The service collects, merges, analyzes, archives and distributes Satellite Laser Ranging (SLR) and Lunar Laser Ranging (LLR) observation data sets to satisfy the objectives of scientific, engineering, and operational applications and programs. The basic observables are the precise two-way time-of-flight of an ultrashort laser pulse to a retroreflector array on a satellite or the Moon and the one-way time of flight to a space borne receiver (transponder). These data sets are made available to the community and are also used by the ILRS to generate fundamental data products, including: accurate satellite ephemerides, Earth orientation parameters, three-dimensional coordinates and velocities of the ILRS tracking stations, time-varying geocenter coordinates, static and time-varying coefficients of the Earth's gravity field, fundamental physical constants, lunar ephemerides and librations, and lunar orientation parameters.
Related Links
New NASA VLBI Civil Servant position open for applications - A new NASA VLBI Civil Servant position is now posted and open for applications. There are two postings, one senior and one mid-level, and applicants should decide which one best fits his/her experience level:

GS-14: http://www.usajobs.gov/GetJob/ViewDetails/493509700

GS-15: http://www.usajobs.gov/GetJob/ViewDetails/493510000

The postings currently close on Tuesday, March 27, 2018. Please note that the job is only open to U.S. citizens and U.S. nationals.
The passing of Dr Yoshihide Kozai - Dr. Yoshihide Kozai passed away on 5 February 2018 at the age of 89. He was very well known in the field of orbit dynamics and also as a leading pioneer of satellite laser ranging since 1960s. He later served as the founding Director General of National Astronomical Observatory of Japan (NAOJ). He had a strong presence even after that - many of us remember his appearance and great speech in the 18th Int. Workshop on Laser Ranging in Fujiyoshida. He will be extremely missed.
European Geosciences Union General Assembly 2018, Vienna, Austria, April 08-13, 2018
FIG XXVI Congress and General Assembly, Istanbul, Turkey, May 06-11, 2018
European Navigation Conference, Gothenburg, Sweden, May 14-17, 2018