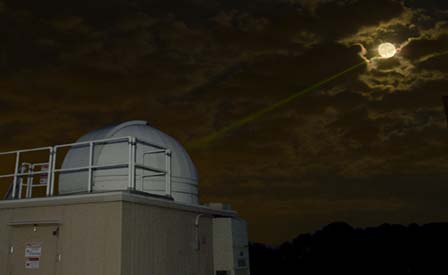 ILRS Technology and Engineering Activities
The service collects, merges, analyzes, archives and distributes Satellite Laser Ranging (SLR) and Lunar Laser Ranging (LLR) observation data sets to satisfy the objectives of scientific, engineering, and operational applications and programs. The basic observables are the precise two-way time-of-flight of an ultrashort laser pulse to a retroreflector array on a satellite or the Moon and the one-way time of flight to a space borne receiver (transponder). These data sets are made available to the community and are also used by the ILRS to generate fundamental data products, including: accurate satellite ephemerides, Earth orientation parameters, three-dimensional coordinates and velocities of the ILRS tracking stations, time-varying geocenter coordinates, static and time-varying coefficients of the Earth's gravity field, fundamental physical constants, lunar ephemerides and librations, and lunar orientation parameters.
Related Links
NRK TV (Norway) features the need for a precise Terrestrial Reference Frame, and discusses role of NASA and the Space Geodesy Program - NRK TV in Norway has published a video feature (in Norwegian) discussing the importance,and challenges of global cooperation in making precise measurements to support the maintenance of an international terrestrial reference frame necessary for natural hazard and global change studies. The video also discusses the future plans for cooperation with NASA in the construction of the geodetic station in Ny Alesund. The video features interviews (in English) with SGP Manager Stephen Merkowitz (Code 61A @ NASA GSFC; time index 5:26, 8:45, 10:20) and colleagues Hayo Hase (AGGO, La Plata Argentina ; time index 11:14 20:07) Ludwig Combrinck (HartRAO, South Africa; time index 6:24, 17:24); Per Erik Opseth, Laila Lovhoiden, Gary Johnston (Geoscience Australia, time index 20:53, 23:05), and others, as well as a visit to NASA GSFC and GGAO. The full URL for the television program is: https://tv.nrk.no/program/KOID75001017/jakten-paa-den-eksakte-posisjon.
Upcoming maintenance on CDDIS and ILRS email exploders - The NASA system used for CDDIS and ILRS email exploders will be undergoing maintenance from 13:00 - 17:00 UTC on April 23.
ILRS 2017 Technical Workshop: First Circular - The Institute of Astronomy at the University of Latvia and the International Laser Ranging Service (ILRS) will host the 2017 ILRS Technical Workshop on October 02 through 05, 2017 in Riga, Latvia. The program committee for the 2017 ILRS Technical Workshop, to be held in Riga Latvia, October 02-05, 2017, has issued the meeting's first circular. The workshop will have four sessions held over four days. Read more...
EGU 2017 General Assembly, Vienna, Austria, April 23-28, 2017
IAU Symposium 330 "Astrometry and Astrophysics in the Gaia sky", Nice, France, April 24-28, 2017
Ninth IVS Technical Operations Workshop, Westford, MA, USA, April 30 - May 04, 2017