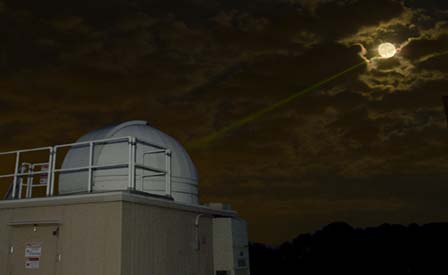 ILRS Technology and Engineering Activities
The service collects, merges, analyzes, archives and distributes Satellite Laser Ranging (SLR) and Lunar Laser Ranging (LLR) observation data sets to satisfy the objectives of scientific, engineering, and operational applications and programs. The basic observables are the precise two-way time-of-flight of an ultrashort laser pulse to a retroreflector array on a satellite or the Moon and the one-way time of flight to a space borne receiver (transponder). These data sets are made available to the community and are also used by the ILRS to generate fundamental data products, including: accurate satellite ephemerides, Earth orientation parameters, three-dimensional coordinates and velocities of the ILRS tracking stations, time-varying geocenter coordinates, static and time-varying coefficients of the Earth's gravity field, fundamental physical constants, lunar ephemerides and librations, and lunar orientation parameters.
Related Links
Designation "NORAD ID" changed to "Satellite Catalog Number" - The ILRS, and other groups, have used the term "NORAD ID" for the sequential, 5-digit number assigned to satellite missions after launch. This designation was previously assigned and maintained by NORAD (North American Aerospace Defense Command). The assignment is now performed by The United States Space Command (USSPACECOM); therefore, the designation NORAD ID has been changed to the Satellite Catalog Number on the ILRS mission pages and lists.
Holiday Greetings from the ILRS - The Governing Board and the Central Bureau of the International Laser Ranging Service would like to extend our sincere thanks to you and your colleagues for your participation in service activities during 2016. The year 2016 has once again been a very busy year for the ILRS where we supported new missions and the generation of data and products for the international research community. We sponsored the very successful 20th International Workshop on Laser Ranging in Potsdam in October. The ILRS also participated in various international activities and GGOS. We thank you for your continued support of the ILRS and its mission. We would like to send our warmest wishes for a wonderful holiday season to all of our ILRS colleagues, staff members, and their families. Best wishes for a healthy and Happy New Year. We look forward to even more successes in 2017! - Pippo Bianco, Mike Pearlman, and Carey Noll
Munich Satellite Navigation Summit 2017, Munich, Germany, March 14-16, 2017
EGU 2017 General Assembly, Vienna, Austria, April 23-28, 2017