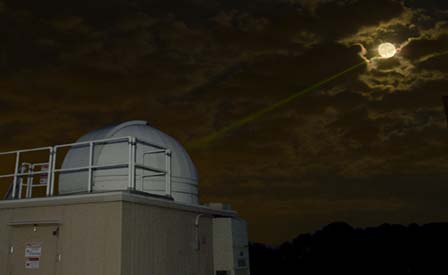 ILRS Technology and Engineering Activities
The service collects, merges, analyzes, archives and distributes Satellite Laser Ranging (SLR) and Lunar Laser Ranging (LLR) observation data sets to satisfy the objectives of scientific, engineering, and operational applications and programs. The basic observables are the precise two-way time-of-flight of an ultrashort laser pulse to a retroreflector array on a satellite or the Moon and the one-way time of flight to a space borne receiver (transponder). These data sets are made available to the community and are also used by the ILRS to generate fundamental data products, including: accurate satellite ephemerides, Earth orientation parameters, three-dimensional coordinates and velocities of the ILRS tracking stations, time-varying geocenter coordinates, static and time-varying coefficients of the Earth's gravity field, fundamental physical constants, lunar ephemerides and librations, and lunar orientation parameters.
Related Links
SpinSat re-enters Earth's atmosphere - NRL/Jake Griffiths has informed the ILRS that SpinSat re-entered late on March 11, 2017. The last track of the satellite was received that day at 22:39 UTC from a Space Surveillance Network station located in the UK. NRL has expressed its gratitude to the ILRS for supporting the mission.
New ILRS AAC at IGIG - The ILRS is pleased to welcome the Wroclaw University of Enviromental and Life Sciences (WUELS), Institute of Geodesy and Geoinformatics (IGIG) as an ILRS Associate Analysis Center (AAC). Krzysztof Sosnica's group at the Institute is generating scientific products based on the SLR observations to new GNSS systems on the operational basis. IGIG generates daily reports that include a comparison between IGS MGEX orbits of GLONASS, Galileo, BeiDou MEO, BeiDou IGSO and QZSS satellites and SLR observations collected by a global network of ILRS stations.
ILRS survey of user tracking needs - Many stations in the ILRS network are nearly saturated in their tracking schedule. The ILRS is presently assessing its tracking needs to try to maximize its utility. We recently sent out an email to various ILRS users and groups to ask for user needs. If you want your needs to be considered, and did not receive an email invitation, please send an email to Erricos Pavlis (epavlis @ umbc.edu). Once we compile the results, the ILRS plans to make revisions to its tracking list based on users needs. Therefore, user input is critical. The survey should not take you more than 5-10 minutes to complete, depending on your level of involvement with SLR data. Thank you for supporting the ILRS!
EGU 2017 General Assembly, Vienna, Austria, April 23-28, 2017
IAU Symposium 330 "Astrometry and Astrophysics in the Gaia sky", Nice, France, April 24-28, 2017